4 Hour Continuing Education Training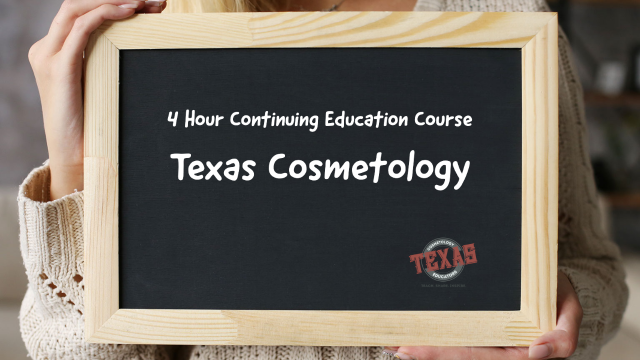 Course Objectives
Refund/Cancellation PolicyAll courses are refundable within 180 days of purchase minus a $10 cancellation fee per course as long as the course has not been substantially completed. Any textbook or shipping costs are non-refundable.Privacy PolicyTexas Cosmetology Educators does not share any data with outside of the services involved with the transaction and reporting i.e. Credit Card Processor, LMS provider, State Reporting, etc. We reserve the right to send email advertisements regarding your license renewal and other relevant notices.This training course meets All Requirements for Operators, Manicurists, and Estheticians
Includes Sanitation and Human Trafficking

Four Simple Steps to Renewal
1. Sign Up 4 Hour Continuing Education Course

2. Complete the easy to navigate training at your own time and own pace

3. Download your certificate. We will take care of reporting the completion hours for you!

4. Renew your license with TDLR

TDLR CE Requirement:
1 hours of Sanitation
3 hours of Cosmetology Related
Must have Human Trafficking Component

Our Course Meets This Requirement
2022-2023 Course Outline:
1 Hour of Sanitation
1 Hour of Human Trafficking
1 Hour of Cultural Diversity
1 Hour of Psychology in Cosmetology
Detailed Course OutlineInfection Control 60 Minutes
blood borne pathogens
decontamination
sterilization
advanced infection control
Sex Trafficking Awareness 60 Minutes
defining human trafficking, sex trafficking, and labor trafficking
differentiate between human smuggling and human trafficking
myths and misconceptions about human trafficking
indicators or warning signs to help identify human trafficking
places to report suspected cases of human trafficking
resources to help human trafficking victims
Cultural Diversity 60 Minutes
exploring what cultural diversity means
investigate why cultural diversity matters in teams
harnessing the potential benefits of multicultural teams

leading diverse, inclusive, and high-performing teams.



Psychology in Cosmetology 60 Minutes
create relationships that last longer than your services
build trust with your clients and colleague
increase your retention, rebooking, referrals and reviews
reignite your significance, self-worth and sense of belonging